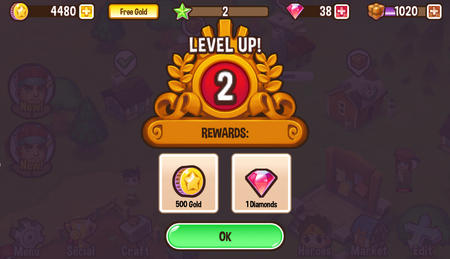 Player levels are displayed on the top center of your screen with the green experience icon, shaped like a star. You gain experience through many game activities, most often by refilling Shops, completing Quests, or killing Monsters. Buying Decor, dispelling Dungeons, or expanding land also give experience. Each time you increase in level, a splash screen displays showing you any rewards. Some level increases unlock quests, Heroes, or various Buildings. Monsters difficulties also depends on players level. Below is a list of player levels with rewards and unlockable items. Rewards listed in each row are items that are rewarded when you complete that level.

You start with 2,000 Gold, 30 Diamond, 500 Goods, and a few basic buildings.
Level 50 is the current maximum level.
Level
Reward for Completing
Unlocked Items
Cumulative XP
XP to level
1
500
1
Starter Equipments
0
0
2
500
1
30
30
3
500
1
Workshop, 3rd Hero
80
50
4
1,000
1
Bounty, Land Expansion
120
40
5
1,500
1
Fruit Shop, Seasonal Quests
180
60
6
2,000
1
Town House, Small Fountain, Land Expansion, 4th Hero, Great Equipments
240
60
7
2,000
1
Fishmonger
340
100
8
2,000
1
Brick House, Large Fountain
540
200
9
2,500
1
Windmill, 5th Hero, Legendary Equipments, Epic Equipments
800
260
10
3,000
1
Land Expansion, Ultimate Equipments
1,100
300
11
3,000
1
Butcher
1,500
400
12
3,000
1
Royal Villa, 6th Hero
2,000
500
13
3,000
1
Magic Shop
2,700
700
14
3,000
1
3,600
9000 free-diamonds 50
15
3,000
1
Armory, Hobbit Home, 7th Hero
4,700
1,100
16
3,000
1
6,000
1,300
17
3,000
1
Tailor
7,500
1,500
18
3,000
1
9,250
1,750
19
3,000
1
Library
11,250
2,000
20
3,000
1
Mansion House, 8th Hero
13,550
2,300
21
3,000
1
16,150
2,600
22
3,000
1
19,050
2,900
23
3,000
1
22,250
3,200
24
3,000
1
25,750
3,500
25
3,000
1
Pagoda, 9th Hero, Land Expansion
29,550
3,800
26
3,000
1
336,50
4,100
27
3,000
1
38,050
4,400
28
3,000
1
42,750
4,700
29
3,000
1
47,750
5,000
30
3,000
1
10th Hero, Land Expansion
53,050
5,300
31
3,000
1
58,650
5,600
32
3,000
1
64,550
5,900
33
3,000
1
70,750
6,200
34
3,000
1
77,250
6,500
35
3,000
1
11th Hero
84,050
6,800
36
3,000
1
91,150
7,100
37
3,000
1
98,550
7,400
38
3,000
1
106,250
7,700
39
3,000
1
114,250
8,000
40
3,000
1
12th Hero
122550
8300
41
3,000
1
131,150
8,600
42
3,000
1
140,050
8,900
43
3,000
1
149,250
9,200
44
3,000
1
158,750
9,500
45
3,000
1
168,550
9,800
46
3,000
1
178,650
10,100
47
3,000
1
189,050
10,400
48
3,000
1
199,750
10,700
49
3,000
1
210,750
11,000
50
3,000
1
222,050
11,300